SEVEN WILL JOIN MERCER COUNTY SOCCER HALL OF FAME ON APRIL 25
The Mercer County Soccer Hall of Fame dinner, an event that honors the 100-year history of Mercer County soccer, will be held on April 25, 2015 at the Hibernian Club in Hamilton. Seven new members are slated to be inducted.

Among the inductess are former Steinert High and Rider University goalie and current Broncs assistant coach Larry Povia [below, left] and former Steinert standout and current University of Delaware women's head coach Scott Grzenda [below, right].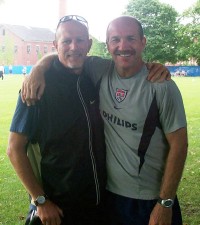 <!!--ENTER TEXT BELOW--!!>
Photo above: 2012 Mercer County Soccer Hall of Fame inductee Mike Stricklin and the late Glenn "Mooch" Myernick. <!!--STOP. NO TEXT BELOW THIS LINE--!!>